You want s'mores?
Toast up 10 variations of this popular campfire treat
---
Contributed by Shawnee Shepher, with thanks to Joyce Rosencrans and
www.kraftfoods.com.
S'more the merrier, we say. Graham crackers, it turns out, are not the only conveyance for golden-toasted marshmallows and warm, gooey chocolate. There are cinnamon graham crackers, Carr's wheatmeal biscuits, chocolate wafers, crushed cereal bars, pies and tarts, s'more cakes, plus different ingredients and spreads to tuck in there with the classic mallow-chocolate combo.
This campfire treat from childhood and Girl Scout troop treks has even caught the attention of fine-dining advocates.
The Epicurious Web site alone has gathered dozens of s'more recipes from Gourmet magazine, Bon Appetit and fine restaurants from coast to coast. This is the site -- epicurious.com -- for finding the lengthy directions to make homemade graham crackers and homemade marshmallows set with unflavored gelatin.
Whew! That would be a hobby, not a simple dessert to fuel childhood nostalgia.
I have made homemade graham crackers, but just once. Marshmallows are basically corn syrup set with Knox gelatin, whipped and chilled until set. You make a panful, cut it in cubes and roll them in powdered sugar and a little cornstarch. I think that's way too much trouble, and that opinion was confirmed by an amusing online recipe critique from someone somewhere who'd followed the laborious instructions for homemade everything from the celebrated French Laundry restaurant in Yountville, Calif.
"They (the s'mores) came out great. I would point out, however, that the homemade marshmellows (sic) come out almost identical in flavor and texture to fresh, store-bought Kraft Jet Puff marshmellows (sic)."
Surfing the Net s'more, I discover that fine-diners at First in New York City once enjoyed making their own s'mores right at the table -- toasting marshmallows over "flaming pots of coals." Wonder what kind of powerful ventilation system that restaurant used?
Definitely skip the flaming coals indoors because a single votive candle can toast mini-marshmallows on toothpicks just fine for mini-s'mores. Give each guest his own candle for in-house s'more-making. Then there's no danger of the fire department dropping by or loved ones keeling over in your dining room from carbon monoxide poisoning or smoke inhalation.
Maybe the Girl Scouts have always had the right idea -- keeping s'mores casual and in the great outdoors. If you don't want to actually build a campfire, any grill or hibachi works just fine for rendering marshmallows golden-brown and crisp enough to make milk-chocolate squares slightly molten when smushed between two graham crackers.
Since at least 1927, when the Girl Scouts printed the recipe in their handbook, "Tramping and Trailing with the Girl Scouts," young campers have been content to stick with basic s'mores: "Toast 2 marshmallows to a crispy, gooey state and then put them inside a graham cracker and chocolate bar sandwich. The heat of the marshmallow between the halves of chocolate bar will melt the chocolate bar a bit. Though it tastes like (you want) 'some more,' one is really enough."
No matter what troop leaders would say, here are s'more versions for one of America's favorite chocolate desserts -- thanks to Kraft, cereal companies and select cookbooks with summertime, grilling or chocolate themes.
• Summer S'mores Squares: Spray a 9-inch square pan with cooking spray and set aside. In a large bowl, combine 4 cups of Honey Graham Life cereal, 2 cups thin pretzel sticks, broken in half, and 1 cup chocolate chips. Set this aside for later.
Melt a half-stick of butter in a large saucepan. Stir in 4 1/2 cups mini-marshmallows and cook over low heat, stirring constantly, until melted and well blended. Stir this into the cereal mixture until well-coated. Press cereal mixture evenly into the square pan and let cool completely. Cut into 16 squares.
• S'mores With a Twist: For 12 servings, use 12 whole regular or cinnamon-coated graham crackers, broken in half, or 24 wheatmeal biscuits or 24 chocolate wafer cookies. Place 2 cracker halves or 2 cookies on each of 12 plates. Top 1 on each plate with chocolate pieces in a single layer. (Use 6 imported filled chocolate bars, 3.5-oz. each, broken into pieces. Look for chocolate bars that have orange, pistachio or caramel fillings.) Skewer 12 marshmallows on toasting forks. Brown directly over coals or gas flames. Push a marshmallow onto each chocolate layer. Press second cracker half or cookie onto each hot marshmallow to form a sandwich. -- From Bon Appetit, October, 2003.
• Bittersweet S'mores: For 12 dessert sandwiches, arrange 12 Carr's wheatmeal biscuits on a dozen 8-inch squares of foil. Arrange 3 pieces of chocolate in a flat triangle on each (using nearly one and a half 3-oz. Lindt bars or other fine-quality bittersweet chocolate, broken into 36 pieces). Toast 12 marshmallows over flames until golden and put 1 on top of each chocolate triangle. Top with remaining biscuits and wrap in foil. On a rack set 6 inches over glowing coals, heat s'mores 1 minute each side, or until chocolate is melted. -- From Gourmet magazine, August, 1996. (A variation on the bittersweet chocolate theme is to use thin gingersnaps instead of graham crackers. From "Best Summer Weekends" by Jane Rodmell, Cottage Life Books, $29.95 hardcover.)
• Easy Pan O' S'mores: Heat oven to 350. Break 9 Honey Maid Honey Grahams in half crosswise to make 18 squares. Place 9 of the squares on bottom of a 9-inch square baking pan. Halve 36 Jet-Puffed Marshmallows. Place 36 halves on the graham squares in pan. Sprinkle evenly with chopped chocolate from 6 squares Baker's Semi-Sweet Baking Chocolate. Close with remaining graham squares. Arrange 4 marshmallow halves, cut sides down, on top of each square. Bake at 350 for 9 to 11 minutes. Let sit a few minutes, then cut into 18 bars with a greased knife. Serve immediately.
• Crowd-pleasing Peanut Butter S'mores: Preheat grill to medium-low heat. Break 15 Honey Grahams in half crosswise to make 30 squares. Halve 30 marshmallows. Chop 4 squares of Baker's Semi-Sweet Baking Chocolate. Arrange 15 of the graham squares in a single layer in bottom of a 13x9-inch disposable foil baking pan. Place 4 marshmallow halves on each square in pan. Sprinkle evenly with chopped chocolate. Spread each of remaining graham squares with a teaspoon of peanut butter (1/3 cup in all). Place peanut butter sides down on top of graham squares in pan to make 15 s'mores. Cover with foil. Place pan on grill and heat 4 to 6 minutes or until marshmallows are puffed and melted. Let stand 5 minutes. Cut into 15 squares with a greased knife and serve right away. Variation: Add a layer of sliced bananas before covering with peanut butter-spread grahams.
• Easy Grilled S'mores: Preheat grill to medium-hot. Cut 4 sheets of foil, 12x8-inch each. Break 4 whole Honey Grahams crosswise to make 8 squares. Center each of 4 graham squares on a foil sheet; top each with 2 tablespoons Baker's Semi-Sweet Chocolate Chunks and 1 large marshmallow. Cover with remaining graham squares to make a total of 4 s'mores. Bring foil sides up around each sandwich, then double-fold top and both ends to seal packet, leaving room for heat circulation inside. Place on grill; cover. Grill 4 to 5 minutes or until marshmallows are melted.
• Viennese S'mores: The ingredients are 8 squares of Honey Maid Honey or Chocolate Grahams, 1/3 cup semi-sweet chocolate chips, melted, 2 tablespoons seedless raspberry preserves, 2 tablespoons flaked coconut and 4 large marshmallows.
Spread 4 grahams with melted chocolate; let stand until almost set, about 2 minutes. Spread remaining grahams with preserves; sprinkle with coconut. Toast marshmallows to desired doneness. Place on raspberry-topped grahams. Close with remaining grahams. -- Kraft Foods.
• German Chocolate S'mores: To make 4 sandwiches, the ingredients are 4 tablespoons ready-to-spread chocolate frosting, 8 graham-cracker squares, 4 teaspoons chopped pecans, toasted, 4 teaspoons flaked coconut and 4 marshmallows.
Spread frosting on one side of each graham. Sprinkle with pecans on four of the squares, pressing lightly for the nuts to adhere. Sprinkle coconut on the other squares. Toast marshmallows. Place 1 on top of each prepared graham square, then sandwich a pecan and coconut square together. -- Kraft Foods.
S'mores Cheesecake Squares
18 Honey Grahams, divided
1/3 cup melted butter
1 1/4 cups sugar, divided
4 packages (8-oz. each) cream cheese, softened
1 teaspoon vanilla
4 eggs
6 bars (1.55 oz. each) milk chocolate candy, coarsely chopped, divided
1 cup mini-marshmallows
Yield: 32 servings, 1 square each
Heat oven to 350. Crush 14 of the grahams, measuring about 2 cups crumbs. Coarsely chop remaining 4 graham crackers; set aside.
Mix graham cracker crumbs, butter and 1/ 4 cup of the sugar. Press onto bottom of a 13x9-inch baking pan.
Beat cream cheese, remaining 1 cup sugar and vanilla with electric mixer on medium speed until well blended. Add eggs; mix until just blended. Stir in ½ of the chopped candy. Pour over crust. Sprinkle with remaining candy, marshmallows and chopped graham crackers. Bake 40 minutes or until center is almost set. Cool. Refrigerate 3 hours or overnight. Cut into squares. -- From www.kraftfoods.com.
Magical Mystery Microwave S'mores Cake
1 cup Baker's Semi-Sweet Chocolate Chunks, divided
2 eggs
1 (8-oz.) tub frozen whipped topping (Cool Whip), thawed
1 1/2 cups graham cracker crumbs
1/2 cup mini-marshmallows
Yield: 6 servings
Reserve 2 tablespoons chocolate chunks. Set aside.
Beat eggs in a large bowl with fork. Add whipped topping, crumbs and remaining chocolate chunks. Stir just until blended. Spread into a greased 1 1/2- or 2-quart microwave-safe round dish at least 2 inches deep.
Microwave on medium (50 percent power) 5 minutes. Rotate dish a half-turn. Microwave on high 4 1/2 to 5 1/2 minutes or until cake starts to pull away from the side of the dish and is just moist.
Place serving plate on top of dish; invert cake at once. Remove dish. Sprinkle the hot cake with marshmallows and reserved chocolate chunks.
++++++++++++++++++++++++++++++++++++++++++++++
From Gourmet Chefs
Contributed by Barbara Hart, who was sent this by a friendly girl scout leader.
Also, I personally made this recipe and they came out GREAT! –DON from MarshmallowChefSticks.com
There are mainly two types of marshmallow recipes: those which use sugar, corn syrup, and gelatin only and those that fold in an egg white meringue before cooling. Although, many claim that the best marshmallows have egg whites, I wanted to try making marshmallows as simply as possible (without, hopefully, sacrificing taste and texture), so I decided to try out an eggless recipe.

I started by reading over a dozen marshmallow recipes before settling on the recipe credited to Chef Thomas Keller.
I prepared a 9x13-in. glass baking pan by greasing it with butter and sifting powdered sugar over it to coat the bottom and sides.
– Recipe substitution from DON. I used a 60/40 mixture of cornstarch/powdered suger to create a 'less-sweet' coating. :)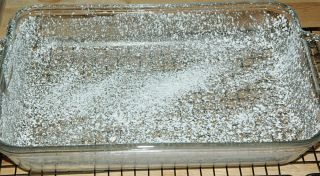 The recipe calls for 3 envelopes of Knox gelatin and 1/2 cup cold water. 3 envelopes of gelatin is equivalent to 3 tablespoons or 21 grams of powdered gelatin. Make sure you use the unsweetened and unflavored kind.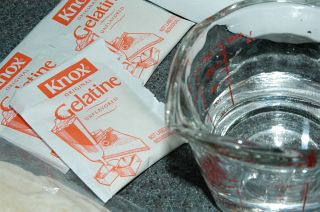 I poured the water and gelatin into the bowl of my stand mixer to allow the gelatin to bloom. The recipe calls the gelatin to bloom for ten minutes.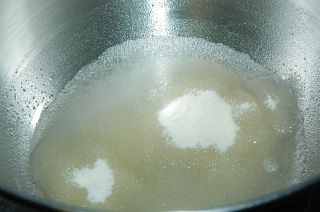 While the gelatin was blooming, I measured out 2 cups of sugar, 2/3 cup corn syrup, and 1/4 cup water.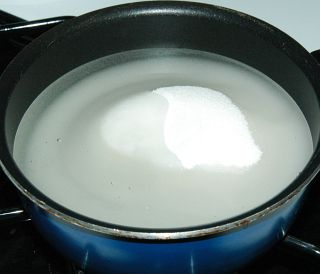 I brought the mixture to a boil and deviated from Chef Keller's recipe a little. Instead of boiling for one minute, I allowed it to boil until the sugar's temperature passed 250°F. This brings the sugar into what is known as the hard-ball stage (when dropping the sugar into some water will form a hard ball that is not easily deformed) and is the traditional temperature of sugar used for making marshmallows.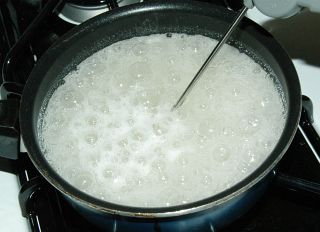 I ran the mixer at low speed while drizzling in the boiling sugar syrup. Once the syrup was mixed in, I turned up the speed a little and added about 1/4 tsp. salt. The recipe calls for mixing at a high speed, but I couldn't turn up the speed to high without risking splattering 200°F sugar everywhere.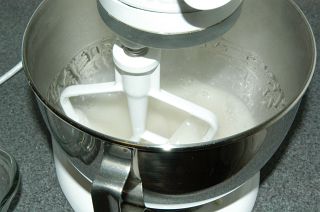 When the mixture begins to fluff up, I scraped down the bowl and turned up the speed to high.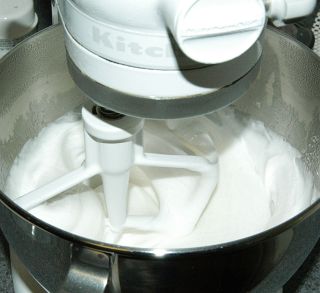 Once the volume of the marshmallow stopped increasing, I added 1 tablespoon of vanilla extract. After the extract was mixed in, I stopped the mixer. This took about 8 minutes from when I started mixing, a few minutes short of Chef Keller's recommended twelve minutes.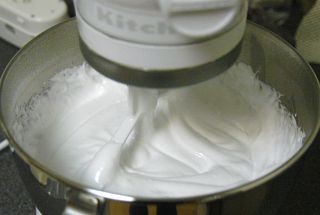 I poured the marshmallows into the prepared pan and smoothed roughly with a silicone spatula. Several internet recipes recommend oiling plastic wrap and using it to flatten the top of the marshmallow.
– Recipe substitution from DON. I used food-grade surgical gloves, instead of plastic wrap, and sprayed my gloved hand with oil. Worked great! :)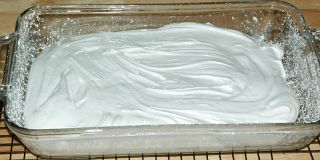 I let the marshmallow cool and set by leaving it on the dining table uncovered overnight. I then inverted the pan over a cutting board covered in powdered sugar. I released the marshmallow buy pulling from a corner and working the marshmallow loose from the baking pan.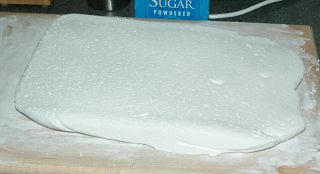 I used a large pizza wheel to section the marshmallows one row at a time and dredging each piece in cornstarch/powdered sugar mixture until the sides weren't sticky anymore.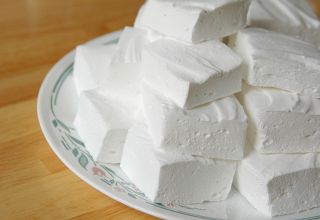 So, how did the marshmallows come out?
I felt that the flavor and texture were right on. Since I dredged the pieces with powdered sugar, the exterior was a little sweeter than the marshmallows sold in supermarkets. This was actually a pleasant effect since my marshmallows were fairly large and the sweetness emphasized the difference between the exterior and interior of the marshmallow.
– I tried it both ways and preferred smaller marshmallows using the 60/40 mixture of cornstarch/powdered suger to create a 'less-sweet' coating. These marshmallows are more rich than store bought. Don. :)
I did occasionally smell the gelatin while cutting the marshmallows and was afraid that the flavor would be tainted, but once I had dredged the piece, I couldn't detect any gelatin taste. All in all, I'd say this is a pretty good homemade marshmallow recipe.
Marshmallows
(Makes 40 large marshmallows)
Ingredients:
Grease 9 x 13-inch pan and powder with powdered sugar.
3 Tbs. (21 g) gelatin
1/2 Cup (120 mL) water
(Soak 10 minutes)
2 Cups (400 g) sugar
2/3 Cups (400 g) sugar
1/4 Cup (60 mL) water
(Boil until 250 *F / 120 *C)
1/4 Teaspoon (1.5) salt
(Drizzle while mixing and mix until marshmallow has fluffed up)
1 Tablespoon (15 mL) vanilla extract
(Mix in)
(Cool in pan for 3 hours then cut)
Powder